Sell Your Home Faster by these 7 Simple Repairs:
There has been tons of competition in the housing market recently. There are the top 7 secrets revealed by an experienced Professional Real Estate Investor.
There are bound to be several other similar listings to your home when you put it up for sale. To make a good first impression on buyers, you must make sure that the property is in a good state of repair.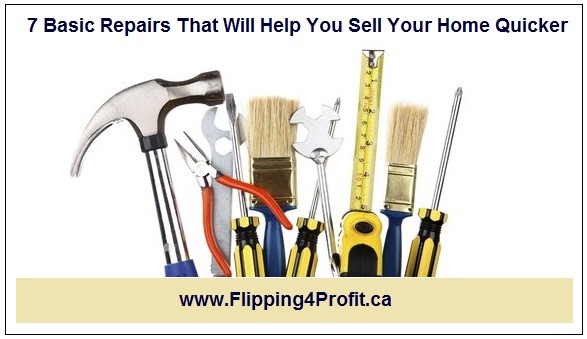 In order to help you sell your home faster, the following things may need your attention or the help of a reputable contractor:
1) Doorways:Â Make sure that all entry systems are inspected very closely. Look for any squeaks, broken parts, cracked glass etc… Consider giving your doors a fresh coat of paint.
2) Roof:Â Check for missing shingles and have replacements installed where necessary. Also inspect the gutters. Remove any debris or leaves from the roof because it makes it look less attractive.
3)Â Walls:Â Any nail pops, holes or dents should be filled in. Make sure to paint a wall if it looks bad.
4) Toilets:Â Make sure all toilets are secured to the floor and do not move when pushed. Anchoring nuts tend to corrode over the years. Replace where necessary.
5) Faucets:Â Inspect all faucets, including those in the laundry room and other areas. Do you have one that drips? If so, repair or replace it.
6) Cabinets:Â Cabinets experience quite a bit of wear and tear over the years. There are many great scratch repair products on the market that can make cabinetry look almost new.
7) Decks and gates:Â Any loose boards? Rickety stairs? Sagging gates that you have to lift in order for the latch to close? Buyers will notice. Get them fixed.
The good news about these types of repairs is that they are relatively inexpensive, yet make your home show significantly better.These secrets has been used by Professional Real Estate Investors to make more money.
We can HELP !! We also BUY HOUSES. Please call:

P.S. Success isn't a matter of chance, it's a matter of choice. So it's up to you to make the right choice to become successful. If you don't know what to do it starts with making the choice to register for this LIVE real estate investors training in your town now and making sure you make the right choice to SHOW UP!!! Learn more to earn more!
Are you a Canadian real estate Investor? Join Canada's largest real estate investors club now.