We Buy Houses for CASH
We Buy houses for cash .Many homeowners list their homes each day only to experience the maddening frustrations–of trying to sell their homes quickly, and make a decent profit on the deal.
* People often have a lot invested in their homes and are disappointed, sometimes even angry when real estate agents insist on drastic changes requiring a big financial investment, just to get a fast sale.
* We buy houses from people that are looking to sell their homes fast for cash. Perhaps due to some unforeseen job transfer that could quickly leave them with two expensive mortgages if they are unable to sell fast. These people need the relief of a quick home sale instead of the devastating consequences they could face if they fail to make their payments on time.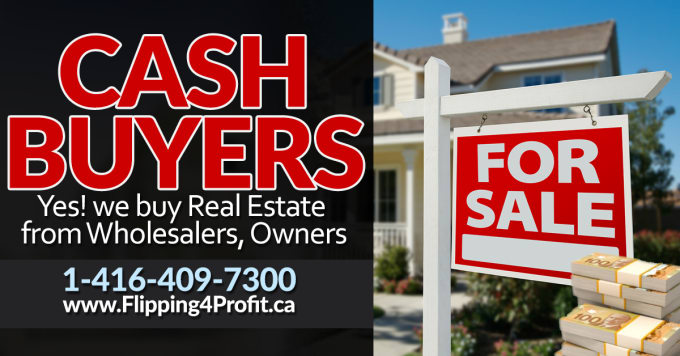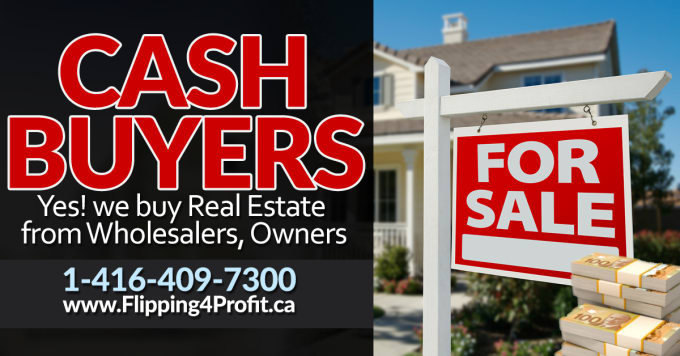 * Other people call the "We Buy Houses" companies because they are just plain tired of having their real estate agent tell them to paint this room, plant these flowers, or vacate the premises at a moments notice for yet another…last minute showing.
I Buy Ugly, Run-Down, Fixer Upper Houses for CASH
* We buy homes from that are clients are looking for a quick cash sale on their property so they can buy the home of their dreams when it suddenly hits the market.  These folks need to act quickly before someone else snatches their dream house out from under them.
That's where we come in. We provide Canadians  like you with a quick estimate and we close fast. We even buy homes that don't require repairs unlike the ugly homes other companies are advertising.
Regardless of your situation, the most important point for you to know is we buy homes in any condition, pay cash and close quickly.
Cash For Houses, We are Cash Home Buyers The reason you want to sell your home fast is not important and has no bearing on us getting you the best cash offer for your home.

We buy Houses for CASH, fast closing to help Home owners Avoid
| | |
| --- | --- |
| Foreclosure | Power of Sale |
| Eviction | Law suit |
| Demand letter | Sheriif |
| Homeless | Ruining Credit |
| Mortgage Enforcement | Threatening letters |
| Notice of Sale | Delinquent mortgage payments |
| Penalty | Default payment |
| Arrears | Repossession |
| Statement of Claim | Judgement |
| Lien | Superior Court of Justice |
 
We even buy ugly Houses for CASH, fast closing! 
| | |
| --- | --- |
| Damaged Properties | Fire damaged properties |
| Flood/Wind Damages | Estate Sales |
| Run Down Properties | Fixer Upper |
| Cottages | Building Lots |
| Condos | Townhouses |
| Semi-Detached Houses | Hobby Farms |
| Acreage | Orchards |
| Stigmatized Properties | Murder |
| Death | Drugs |
| Grow Op Houses | Meth Labs |

All paper work approved in writing by your Lawyer FIRST..
It is important to us  that you are treated fairly and get as close to what you want for your home as possible. This will help you close the selling cycle quickly.
We are a professional network of Professional Real Estate Investors Group (PREIG) Canada specializing in buying homes online just like yours honestly, quickly, with no hassles. We will even buy those ugly, run down homes.
When you work with us you will discover we specialize in streamlining the entire home sale process online. Contact us today to sell your home!
The process is simple. Just pick you favorite method to contact us below and follow the easy instructions.  When you are done simply submit your information.
We buy Houses for CASH
The professionals at can provide you with a fair offer on your house quickly and at a great cash price. We buy houses in any area, any condition, and any price range! We promise to be courteous and professional while giving you various options on the purchase of your home.
Yes! we buy ESTATE properties,provided we have full disclosure.We understand your needs during this difficult time.We will buy it "as is" condition.
Facing Foreclosure or Power of sale or other creditors are threatening? We can help to resolve by simply buying your house.
Privacy is of the greatest concern for us. Your information will only be viewed by investors associated with We Buy Houses For Cash. Simply contact us with your information below and we will get in touch with you.
Please call us at 1-416-409-7300 (Text messages are OK)

Serving you all across GTA, Canada and the following locations:
We Buy Houses for CASH in Alberta:
Calgary, Edmonton, Ft Mcmurray, Lethbridge, Medicine Hat, Peace River Country, Red Deer
We Buy Houses for CASH in British Columbia:
Cariboo, Comox Valley, Fraser Valley, Kamloops, Kelowna-Okanagan, Kootenays, Nanaimo, Peace River Country, Prince Geroge, Skeena-Bulkley, Sunshine Coast, Vancouver, Victoria, Whistler-Squamish
We Buy Houses for CASH in Ontario:
Barrie, Belleville, Brantford-Woodstock, Chatham-Kent, Cornwall, Greater Toronto Area, Guelph,  Hamilton-Burlington, Kingston, Kitchener-Waterloo-Cambridge, London, Niagara Region, Ottawa-Hull-Gatineau, Owen Sound, Peterborough, Sarnia, Sault Ste Marie, Sudbury. Thunder Bay, Toronto, Windsor
We Buy Houses for CASH in all provinces
Alberta, British Columbia, Manitoba, New Brunswick, Newfoundland & Labrador, Nova Scotia, Ontario, Prince Edward Island, Quebec, and Saskatchewan.
Fill the form below or please text us at 1-416-409-7300 especially facing eviction, seizure, power of sale, foreclosure..