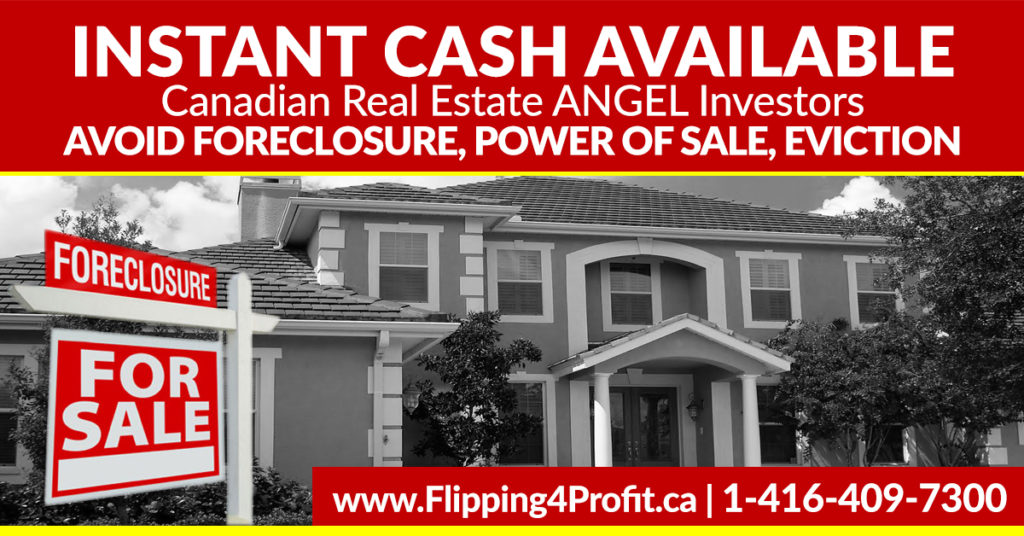 Fast Closings  in 7-10 days
Sell your house fast for cash. How is that possible? Because
the sale of the property is not reliant on approved
financing, appraised values, home inspections, or the
like; bypassing all of these steps expedites the
process considerably.
Wow, imagine how nice it will be for you to find a
cash home buyer like us to just buy your house
quickly where the only thing that you have to
do to is just pack your bags and move out.
So if you are still wondering to yourself
"How can I sell my house fast for cash?",
your wait is over. We buy homes for cash.
Simply call us at 1-416-409-7300
Home Sellers who can't sell
Expired listings 
Sellers who are Divorcing
Bankruptcies
Homes in probate
Homes in foreclosure or Power of sale
Sellers whose employers transfer them
Owners who are evicting tenants
Vacant homes
Trashed or damaged homes
"Need to sell your house fast for CASH"
for any number of reasons, including:
Structural issues
Facing foreclosure or power of sale
Tax Liens
Eviction
Relocation or job transfer
Undesirable neighborhoods
Divorce
Need for cosmetic fix up
Retirement or downsizing
Death of a loved one
Liquidating assets to pay bills
Inheriting a property you can't keep
Tired of living in an ugly house
Job loss
Troublesome mortgage terms
and More
We Love Ugly, fixer upper Houses!
Sell your house fast for cash advantages
Selling to an investor over a traditional
buyer has some key advantages.
A regular buyer typically needs to wait for
financing. This delay can slow down closing,
and you may have to wait longer to finish the deal.
Investors often buy in cash and are ready to close
immediately, which is a huge perk if you're
looking to sell quickly.
Many investors are willing to offer flexible
arrangements. For example, an investor might
be willing to take over your mortgage,
which is great if you're underwater and
struggling to find a buyer.
Most investors buy a property "as is":
If you haven't kept up with home repairs
or if your kitchen needs an upgrade, this
is an attractive option.
There is a time and place for everything, a
nd NOW is the time to get your house FINALLY
SOLD today!
Nav Canada 
1-416-409-7300