Even famous people look beyond their day jobs for extra income; and the stars that turn to flipping houses can really make a lot of money.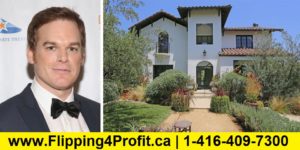 1 Of 11 MICHAEL C. HALL
Hall went from Dexter to Broadway and he flipped a house in Los Angeles after owning it for only a month.
Hall sold a house he bought at 4.175 million for 4.85 million, thus selling the house for $675,000 more than what he bought it for in 2013. He tried to sell the house in 2014 but it didn't work out.
2 Of 11  ELLEN DEGENERES

One of the most well known celebrity house flippers is Ellen Degeneres, she has several flips under her belt. But her most lucrative flip came in July 2014, when she sold LA's famed Brody House to Sean Parker for $55 million, $15 million more than she paid just six months prior. .

3 Of 11 JEREMY RENNER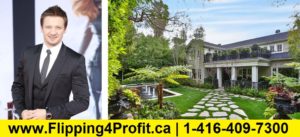 Jeremy Renner has successfully bought and sold several homes over the years, one in Nicholas Canyon and another in Hollywood. He owns a home at the foot of Runyon Canyon that he's trying to sell for #4.795 million .

4 Of 11 JENNIFER ANISTON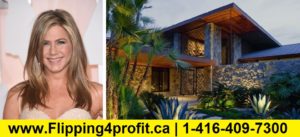 Jennifer Aniston listed her Beverly Hills home for $42 million in 2014, after finishing  renovations with the help of architect and designer Stephen Shadley. It was sold 2 months after being on the market for $35 million. Originally the home was merely $13.5 million when Aniston purchased it.
5 Of 11 COURTENEY COX

After finalizing their divorce in 2013, Courteney Cox and David Arquette earned a significant amount of money by selling their Malibu beach house. Cox and her husband purchased the home for only $7.925 million but it was sold at 10.075 million more than what they bought it at.
6 Of 11 DIANE KEATON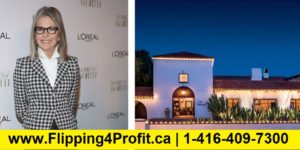 Over the years Keaton has renovated a lot of homes and even flipped 2 in 2010.  One of which was the gorgeous Beverly Hills home she sold to "Glee" and "American Horror Story" creator Ryan Murphy for an undisclosed amount. .
7 Of 11MERYL STREEP
Meryl Streep may have been hoping for a bigger profit when she listed this 1954 Research House for $6.75 million, but she and her husband still made $300,000 when it sold for $4.8 million just four months after it was listed.
8 Of 11ALEX RODRIGUEZ

Baseball star Alex Rodriguez made an incredible $15 million in profit, after factoring in renovation costs, when he sold his Miami Beach home for $30 million in 2013. The Yankee purchased the mansion for $7.4 million in 2010 and spent another $7.6 million renovating the gorgeous space.

9 Of 11 VANILLA ICE

Vanilla ice has dedicated himself to learning how to flip houses. " The former rapper told Time.com he has made millions flipping houses, and doesn't even know how many houses he owns off the top of his head.
10 Of 11 TOBEY MAGUIRE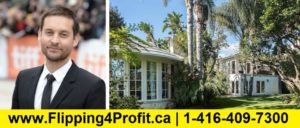 He is trying to flip his plantation style home in Brentwood which he acquired for $8.45 million. The "Spiderman" star has listed the 6-bedroom, 5-and-a-half bath mansion for $10.25 million.

11 Of 11 SCOTT DISICK

Kourtney Kardashians guy, he is new to flipping houses and has hopped on the bandwagon. He recently purchased a five-bedroom home in Beverly Hills for #3.69 million and sources told US Weekly he intents to renovate and flip the property