Canadian Hard Money Lenders lend on short term basis on an investment properties. Loan to value ratio shall not exceed 60%.
Instant funding available provided all information is provided.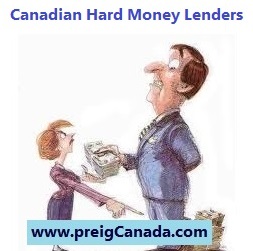 Canadian Hard Money Lenders is a specific type of asset-based loan financing through which a borrower receives funds secured by the value of a parcel of real estate.
Hard money loans are typically issued at much higher interest rates than conventional commercial or residential property loans and are almost never issued by a commercial bank or other deposit institution.
learn more at www.Flipping4Profit.ca
Hard money is similar to a bridge loan, which usually has similar criteria for lending as well as cost to the borrowers.
To contact Us, you can email us at nav4164097300@gmail.com
Your success is our business!
Navtaj Chandhoke
Website: www.WorldWealthBuilders.com/live.html | www.preigCanada.com/membership
Newsletter: Subscribe  REI Club Membership | Apprenticeship | LIVE Training
Blog | Facebook | LinkedIn | Google+ | Twitter  
1-416-409-7300