Ways to Quickly Increase Your Credit Score Canadian real estate investors & know the value of having beacon score of more than 750. A higher credit score can be achieved by using the following steps.
An excellent credit score can mean qualifying for lower interest rates and better mortgage terms. A bad one can mean you don't qualify for any kind of financing at all and dealing with loan sharks.
When you need to borrow money - to invest in Canadian real estate, get a line of credit, or get a decent job or a variety of other reasons — and you don't have a good credit score, it's impossible to improve your score right away.
[youtube]https://www.youtube.com/watch?v=unKnJmvu3ek[/youtube]
That's why the time to start repairing and improving your credit score is now, not when you really need it.
Here's how to increase your credit score with these top ten simple steps within one or two months – all without spending a dime.
Following are the 10Â Simple Ways to Quickly Increase Your Credit Score:
1. Check out your credit reports
Credit bureaus, like TransUnion and Equifax, are required to give you a free copy of your report once a year. All you have to do is ask them in writing, providing proper identifications are given. Generally speaking the entries on the different reports will be the same, but not always; for a variety of reasons credit reports are rarely identical.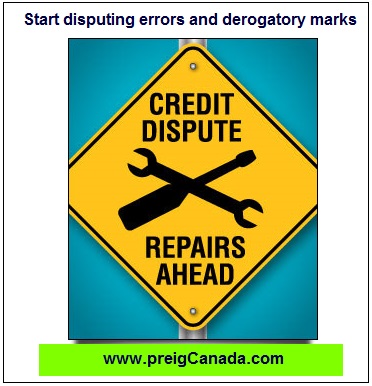 2. Start disputing errors and derogatory marks
You can contact or write letters to credit bureaus if you wish to dispute errors in your credit report. Start with derogatory marks like collection accounts and judgments. It's not uncommon to have at least one collection account appear on your report. You can also dispute errors through each credit bureau. Keep in mind some disputes will take longer than others. But that's ok – once you initiate a dispute, you're done. The credit bureaus are required to investigate the dispute and report the resolution. Take your time and be patient to remove derogatory marks because they also weigh heavily on your overall score.
3. Dispute late payments
When a credit card company fails to enter a payment on a timely basis, your bank may report that a late payment was in fact paid on time. You can dispute late payments, whether made in current or closed accounts, the same way you dispute derogatory marks. Your payment history is another factor that weighs heavily on your credit score, so work hard to clean up such errors.
4. Remove accurate information from your credit bureau
So far we've discussed trying to remove inaccurate information only. You can, if you choose, also dispute information that is accurate, yet incriminating.
For example, say an account went to collection, you never paid it, and the collection agency gave up. All that remains is the entry on your credit report. You can still choose to dispute the entry. Many people do, and sometimes those entries will get removed.
When you enter a dispute the credit bureau asks the creditor to verify the information. Many, like collection agencies, will not. They'll simply ignore the request, and the agency is required to remove the entry from your credit report. If the creditor doesn't respond, the entry will get removed.
Should you take this approach? That's up to you.
5. Be persistent
Maybe you tried and failed to remove a negative comment, or a late payment, or an account that was marked "paid as agreed" (which might mean the creditor agreed to let you pay less than you owed). Should you give up?
Creditors can tell credit bureaus to remove entries from your credit report at any time. You can call a credit card company to explain a late payment, and if you have been a customer for years, they may remove the late payment entry. They may also agree to waive any annual fees in the future. When all else fails, call and ask nicely. You'll be surprised by how often a polite request for help pays off.
6. Increase your credit limits
Another factor that weighs heavily on your credit score is credit card utilization. Your ratio of available credit to credit used makes a big difference. Generally speaking carrying a balance of more than 50 percent of your available credit will negatively impact your score; maxing out your cards will definitely hurt your score.
One way to improve your ratio is to pay down your balances, but another way is to increase your credit limit. If you owe $2,500 on a card with a $5,000 limit and you get the limit increased to $7,500, your ratio instantly improves.
How do you get your increase your limit? If you have a decent payment history most credit card companies will be more than happy to increase your limit – after all, they want you to carry a high balance. That's how they make money.
7. Get a new credit card
Another way to increase your credit card utilization ratio is to get a new card. As long as you don't carry a balance on that card, your available credit immediately increases by that card's limit.
Try to get a card that doesn't charge an annual fee. Your best bet is through a bank where you already have an account. Granted cards with no annual fee tend to charge higher interest rates, but if you never carry a balance the interest rate is irrelevant.
But be smart about it; the goal isn't to get access to more cash, the goal is to improve your credit score. If you think you'll be tempted to run up a balance on a new card, don't get it.
8. Pay down what you owe
You need a higher credit score because you want to borrow money; if you had the money to pay out your balances, you might not need to borrow. Still, decreasing your percentage of available credit used can make a quick and significant impact on your credit score. So go on a bare-bones budget to free up cash to pay down your balance. Or sell something.
Not only will your credit score increase over time, you won't pay as much interest, which, if you think about it, is just giving the credit card companies money that would otherwise remain in your own pocket.
9. Get supplementary card from a friend or spouse
Say your spouse has a credit card with little or no balance and a great payment history; if he or she agrees to add you as an authorized user on that account, from a credit score point of view you automatically benefit from her card's available credit as well as her payment history.
Keep in mind if he or she makes a late payment, that entry will appear on your credit report too. So choose your credit card friends wisely.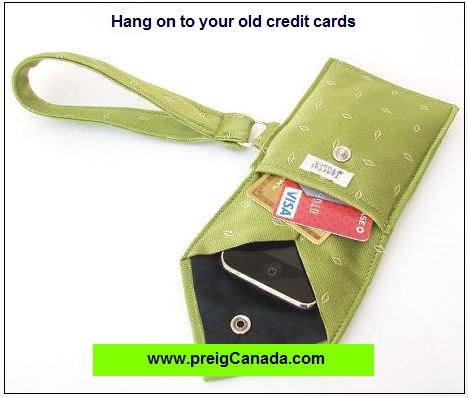 10. Hang on to your "old" credit cards
Your age of credit history has a moderate but meaningful impact on your score. Say you've had a certain credit card for 10 years; closing that account will decrease your overall average credit history and can negatively impact your score, especially in the short term.
If you're hoping to increase your credit score but you also need to get rid of a credit card account, get rid of your "newest" card.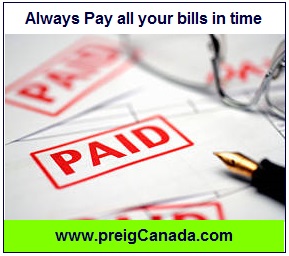 11. Always Pay all your bills in time
Even one late payment can hurt your score. Do everything you can, from now on, to always pay your bills on time. And if one month you aren't able to pay everything on time, be smart about which bills you pay late. Your bank or credit card provider will definitely report a late payment to the credit bureaus.
You can learn more by ordering Do it yourself Credit Repair guide at
Credit Repair Do It Yourself Guide
Credit Repair Do It Yourself Guide: No matter how bad your credit is, it can always be improved — and Strategic Credit Repair: Do It Your self Guide shows you how to do it today! Bad credit can damage your chances of qualifying for credit cards or a mortgage and it can even get in the way of renting a home.
Credit Repair Do It Yourself Guide: You will learn "How to"
Avoid overspending
Establish a realistic budget
Get out of debt
Build a financial cushion
Read and understand your credit report, and get errors fixed
Take action against a credit bureau that does not remove incorrect data
Get positive information added to your credit history
Negotiate with creditors
Get and maintain good credit
Credit Repair Do It Yourself Guide features:
24 Strategic Credit Repair techniques
List of the Canadian Banks
Text of the Bill of Right, Acts, Purge Rules
Glossary of Credit Terms
Credit Repair Do It Yourself Guide: Do it Yoursel 1-2-3 Guide
Regular Price $249.98 +Shipping+HST
Credit Repair Do It Yourself Guide, order it now Special Discounted price
$99.88+shipping +HST
We are also Canadian private hard money lenders. We can offer you multiple solutions to resolve any situation. We can also do short term small private mortgage if required.
We can HELP !! We also BUY HOUSES. Please call:

P.S. Success isn't a matter of chance, it's a matter of choice. So it's up to you to make the right choice to become successful. If you don't know what to do it starts with making the choice to register for this LIVE real estate investors training in your town now and making sure you make the right choice to SHOW UP!!! Learn more to earn more!
Are you a Canadian real estate Investor? Join Canada's largest real estate investors club now.